Hit-and-Run And Car Insurance
A hit and run accident is a serious crime and will be severely be punished by law. Furthermore, car insurance premiums will be modified. Find out more about hit and run and car insurance and get auto insurance quotes online. Using online quotes will help you get better rates, even after a hit and run incident.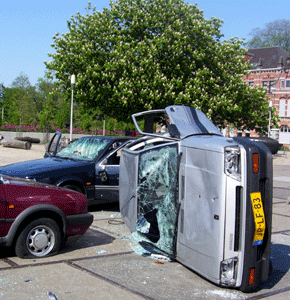 There are two situations: when you are the victim and when you commit the hit and run felony. Let's analyze the first case. If your car is hit by another vehicle, which then leaves the scene, the first thing you should do is to record any information about the vehicle you are able to see (license plates, car make and model, color, etc). You will provide this info to both the police and your insurer. If you weren't around when the accident happened, check if the area is not monitored by surveillance cameras. Or look for witnesses. They may help you track the at-fault driver. Then, call the police and your carrier. Because there is no other driver to blame and to ask for insurance, a hit and run accident will be taken care of under your own policy.
Now, let's assume that you caused the accident, you ran away, but you are caught, eventually. Your premium will likely rise when the offense is discovered. If you're in a "points system" state, you may see larger insurance hikes. A points system operates by awarding points based on traffic violations. Once a certain amount is reached, your license may be suspended or revoked. A hit-and-run could add 4 to 6 points to your driving record. If your state automatically revokes your license upon conviction of a hit-and-run, you will see consequences later. If you have to file an SR-22 form, you'll surely get a premium increase.
Visit us for more info and free quotes. Visit our Homepage!