Parking Lots And Car Accidents
Parking lots are ever present near shopping malls or concert venues. Many of us use them, considering that they are perfectly safe. But recent studies have shown that parking lots present a series of dangers. As you can imagine, car insurance companies have quickly caught up the news. Find out more about parking lots and car accidents and get a free online car insurance quote from our website.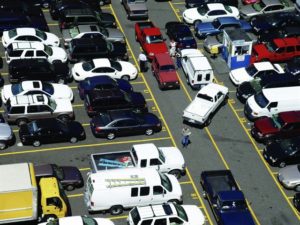 Reports released by the National Safety Council highlighted the fact that parking lots may be much more dangerous than we consider them to be. Also, NSC report shows that 2 out of every 3 drivers may be pulling into shopping centers distracted; 1 in every 5 accidents occurs in parking lots.
During holidays, the risk of being involved in a parking lot accident increases considerably. As you can imagine, during Christmas and Black Friday, parking lots will be crowded. Pay a lot of attention to cars and pedestrians located in a parking spot's range. Parking lots are filled with blind spots and pedestrians pose an additional hazard.
Plus, distracted driving occurs frequently in parking lots. And we have plenty of reasons to be distracted. For example, our eyes can quickly be tricked to watch the flashy billboards.  Or we begin to make other things while driving slower, having a false sense of security. The NSC study participants said that they would do the following while driving in a parking lot:
Program GPS (63%)
Send and receive emails (50%)
Use social media (52%)
Take photos or watch videos (49%)
Use the internet (43%)
Video chat (42%)
There is a lot of car and pedestrian traffic in parking lots, and drivers need to be focused and monitor the area. According to official data, more than 50,000 crashes occur in parking lots and parking garages each year.
Visit us for more info and free quotes. Check our webpage!